REMEDIAL CORRECTIVE MASSAGE
Also sometimes referred to as Remedial Massage Therapy and Sports Massage Therapy, I am fully qualified in the advanced deep tissue techniques allowing a treatment to be completely geared to alleviate and correct postural and muscular problems, focusing on realigning deeper layers of muscles and connective tissue.
Concentrating on problematic areas the treatment will involve an initial assessment of range of movement, posture and spinal alignment with vibrational & friction techniques, resisted and passive stretching as well as normal massage movements to physically break down adhesions in the muscles, tendons and ligaments to relieve pain and restore normal movement.
Adhesions block circulation and cause pain, limiting movement, and causing inflammation.
DOES DEEP TISSUE MASSAGE HURT?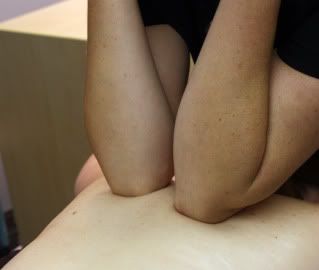 Quite often clients come to me because they are already experiencing pain from tense/stiff joints and muscles, however you may feel some form of pain or discomfort if particular "trigger points" are found and worked on, but this should not be a burning or searing pain, most people refer to it as a "good pain" and the aim of the treatment is to reduce the level of this sensation as far as possible, which in turn helps to free those stiff muscles and joints.
You will be asked throughout the session if any soreness or pain is being felt as this assists the assesment of the condition of the fibres and you should never experience pain or discomfort outside your own comfort range.
WHAT CONDITIONS CAN BENEFIT FROM A DEEP TISSUE MASSAGE?
Chronic pain
Limited mobility
Stiff/Sore Neck and Shoulders, which in turn can alleviate headaches caused by tension in this area.
Recovery from injuries (e.g. whiplash, falls, sports injury)
Recovery from certain Operations (such as improving shoulder movement and reducing scar tissue)
Repetitive strain injury, such as carpal tunnel syndrome
Postural problems
Pre/Post sporting events
Ostearthritis pain
Fibromyalgia
Muscle tension or spasm
Sciatic Pain
"According to the August 2005 issue of Consumer Reports magazine, 34,000 people ranked deep tissue massage more effective in relieving osteoarthritis pain than physical therapy, exercise, prescription medications, chiropractic, acupuncture, diet, glucosamine and over-the-counter drugs".
Deep tissue massage also received a top ranking for fibromyalgia pain.
Many clients often notice improved range of motion immediately after a deep tissue massage.
AFTER CARE
It is important to drink as much water as you can after the massage to flush metabolic waste from the tissues.
There is usually some stiffness or pain after a deep tissue massage, but it should subside within 24 to 48 hours and is part of the healing process. Full aftercare advice is given at the consultation process and after the treatment, which may include home help such as stretches and heat/cold therapy.
Further treatments may be required in chronic cases.
DEEP TISSUE MASSAGE IS NOT SUITABLE FOR ANYONE WITH THE FOLLOWING CONDITIONS;

•Infectious skin disease, rash, or open wounds
•Immediately after surgery (a period of six weeks should be allowed before undertaking a treatment)
•Immediately after chemotherapy or radiation, unless recommended by your doctor
•People with osteoporosis should consult their doctor before getting a massage
•Prone to blood clots. There is a risk of blood clots being dislodged. If you have heart disease, check with your doctor before having a massage
•Pregnant women should check with their doctor first if they are considering getting a massage, deep tissue is not recommended, however other treatments would be beneficial after the first three months.
•Massage should not be done directly over bruises, inflamed skin, unhealed wounds, tumors, abdominal hernia, or areas of recent fractures.
For treatment choice and prices click here.
----

MIXED TREATMENTS AVAILABLE:
Why not choose a mix of treatments and give yourself or a loved one that extra special and much needed time out to truly relax, re-fresh and re-balance. Choose the treatments you would like and a tailored price and timing will be given before booking confirmation.


----