REFLEXOLOGY
WHAT IS REFLEXOLOGY?
The knowledge of the relationship between foot reflexes and internal organs can be traced as far back as 5,000 years from ancient scripts from India and China. Drawings have been found in the Egyptian Tombs, the most well-known being the pictograph depicting reflexology foot massage which was in the tomb of the Physician Ankmahe. Reflexology is the earliest form of accupressure. American Indians are said to have received their understanding from the Incas and are one of the last remaining cultures still using these techniques for pain relief, and still believe today that through the feet walking on the earth you are connected with the Universe".
As far back as the 14th century, a technique known as Pressure Therapy was practised in the middle countries, and it is recorded that it was used by all the classes on themselves and on each other. A russian, Ivan Pavlov discovered through his studies that there was a direct connection between stimulus and response when using 'Zone Therapy', many Russians still use Reflexology with general medical care. There have been many studies and Drs who have researched the effects of applying pressure to points and their effect on the body, eventually in the 1900's an American, Dr Fitzgerald is known to be the first doctor to take all historic and modern theories and research these scientifically, he then developed Zone Therapy, the way Reflexology Practitioners work today.
Dividing the body into 10 zones and corresponding them to reflexes on the feet and hands, he found he was able to control pain in patients during minor operations. One of Dr Fitgerald's students, Dr Riley and his wife then took this further defining the Zones and wrote four books on the subject. However, it was an American physiotherapist who trained alongside Dr Riley who took Zone Therapy one step further. Her name is Eunace Ingham and her foot massage used on hospital patients composed of very small compression movements, breaking down crystalline deposits that had built up in the foot, eliminating toxins and improving circulation. The patients started to report improved health and speedier recovery from operations, resulting in the reduced need for painkillers and avoiding post operative depression. Eunace charted the first maps of the feet and travelled around for over 30 years teaching and promoting the benefits of this therapy and has written "Stories The Feet Can Tell". She is recognised today as the founder of Foot Relexology, since then many books have been written and studies made in Reflexology and the scientific community today are discovering more and more just how effective this therapy is for so many conditions.
HOW DOES REFLEXOLOGY WITH LING-CHI HOLISTIC HEALTH WORK?
The technique is a pressure massage of the reflex points on hands or feet, called a compression movement and is applied by the thumb or finger walking.
A reflex point is the area of the foot or hand where the stimulus is applied, these points correspond to various areas of the body. The reflex is passed to the body via a nerve pathway or meridian to organs, muscles, glands or joints stimulating or sedating energy in the body part. The body then does it's own work to rebalance and return to homeostasis.
The nerve reflexes in the foot can be tender telling the therapist that there may be an imbalance in that corresponding part of the body.
Crystallisation forms in the same area from excess acids (toxins) impairing the circulation of the fluids to and from the feet, they are also believed to block the meridians (energy lines), causing pain disorder or disease. Pain is the body's alarm, an unpleasant reaction to massive stimulation of the sensory nerves, the pain felt in the reflexes is not an enemy and many clients refer to it as a "good pain" and helps to indicate where there is an imbalance. With Reflexology, early stages of disease can be detected and treatment given to prevent more symptoms developing.
WHO CAN RECEIVE A REFLEXOLOGY TREATMENT WITH LING-CHI HOLISTIC HEALTH?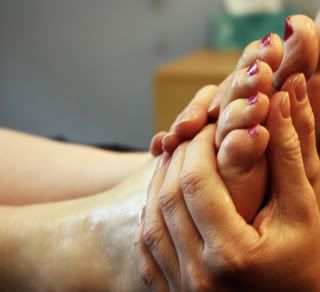 Just about anyone, any age (including babies, children and expectant mothers after the first 3 months). It is a safe, relaxing and non-intrusive therapy and Ling-Chi Holistic Health is particularly keen to promote the fact that there are many children who suffer from conditions that can be greatly helped by Reflexology but many people allow these conditions to carry on hoping that they'll "grow out of it" but Reflexology can vastly improve and sometimes irradicate the condition, any therapy is practiced with the parent present at all times.
There are some contra-indications to the therapy, but most conditions can be treated as long as due care and attention is given. All contra-indications would be discussed in full at the consultation before any treatment is given.
WHAT ARE THE BENEFITS OF REFLEXOLOGY?
These are the most common benefits:
Pain Relief
Quickened Healing
Mental Wellbeing
Spiritual Healing
Improved, more Relaxed sleep
Better Concentration
Increased Energy
Increase in Circulation and Temperature
Increase in the elimination of Toxins from the Body
More Settled Digestion and more Regular Bowel motions
Release of emotional tension, irritation, frustration
Reduction of Fluid Retention
CONDITIONS WHICH CAN BENEFIT FROM REFLEXOLOGY:
These are a few, if you have a condition which is not listed, please do email or call me for an informal chat.
COLDS, INFLUENZA, SINUS PROBLEMS, RESPIRATORY CONDITIONS including HAYFEVER, HEADACHES, MIGRAINE, PMS, PMT, MENOPAUSAL SYMPTOMS, LOW ENERGY LEVELS, FERTILITY, HORMONE IMBALANCES, PAIN RELIEF IN JOINTS AND MUSCLES, NECK, BACK and SHOULDERS, DEPRESSION, STRESS, ANXIETY, SLEEP DISORDERS, IBS & DIGESTIVE DISORDERS, RECENT INJURIES, CIRCULATORY DISORDERS.
More Scientific research is being undertaken every year and more and more proven benefits are being uncovered by the scientific community all the time.
----

MIXED TREATMENTS AVAILABLE:
Why not choose a mix of treatments with Ling-Chi Holistic Health and give yourself or a loved one that extra special and much needed time out to truly relax, re-fresh and re-balance. Choose the treatments you would like and a tailored price and timing will be given before booking confirmation.


----