Facials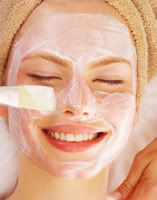 The health benefits of a facial far outweigh the beauty benefits, but working together they give us that healthy glow we all look for.
All our facials with Ling-Chi Holistic Health use natural products and essential oils.
The ingredients for your facial are freshly mixed here at Ling-Chi Holistic Health on each visit, depending on your specific requirements, ensuring you get the absolute best results every time and uniquely to you. Using an Ozone Facial Sauna greatly boosts the cleansing and balancing effect of your facial routine. Over time and with regular facials, mature, oily, dry, combination and adolescent skin conditions can all be greatly improved or even erradicated. Very sensitive skin can also be treated here at Ling-Chi Holistic Health & Beauty in Somerset.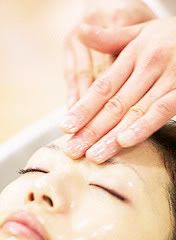 Facials have many benefits:
- Increase in skin temperature relaxes the pores and follicles thus aiding absorption of the products.

- Exfoliation will remove and aid the illimination of dead skin cells improving the look and feel of your skin.

- Sensory nerves can be soothed or stimulated thus alleviating the symptoms of stress and anxiety.

- Stimulates the glands & increases production of sebum and sweat helping to maintain the skins natural oil and moisture balance. Which in turn will help improve your skin condition.

- Relieves tired eyes.

- Relief of sinus congestion, headaches, sore neck and shoulders.

- Stimulates and aids Lymphatic Drainage thus reducing puffiness and removing built up toxins.

- Produces a sense of tranquility, calmness and well-being.

- Increased sense of self esteem and self worth.


Xpress - 30 mins:
Cleanse, Deep Cleanse, Tone, Exfoliate, Massage and Moisturise.
Full Facial - 60 mins:
Double Cleanse, Tone, Exfoliate, Steam, Mask, Hot Compress, Massage of Arms, Hands, Face, Neck and Shoulders.
Luxury - 75 mins:
Incorporating pure essential oils to treat specific conditions as well as chosen by you to either de-stress, relax, refresh or invigorate. Double Cleanse, Tone, Exfoliate, Steam, Mask, Hot Compress, Massage of Arms, Hands, Face, Neck, Shoulders AND Scalp. Allowing the oil to be poured onto the head will greatly improve all round condition of your scalp and hair.
4-Men - 30 mins:
Cleanse, Tone, Steam, Scrub and Moisturise.
MIXED TREATMENTS AVAILABLE:

Why not choose a mix of treatments and give yourself or a loved one that extra special and much needed time out to truly relax, re-fresh and re-balance. Choose the treatments you would like and a tailored price and timing will be given before booking confirmation.

----